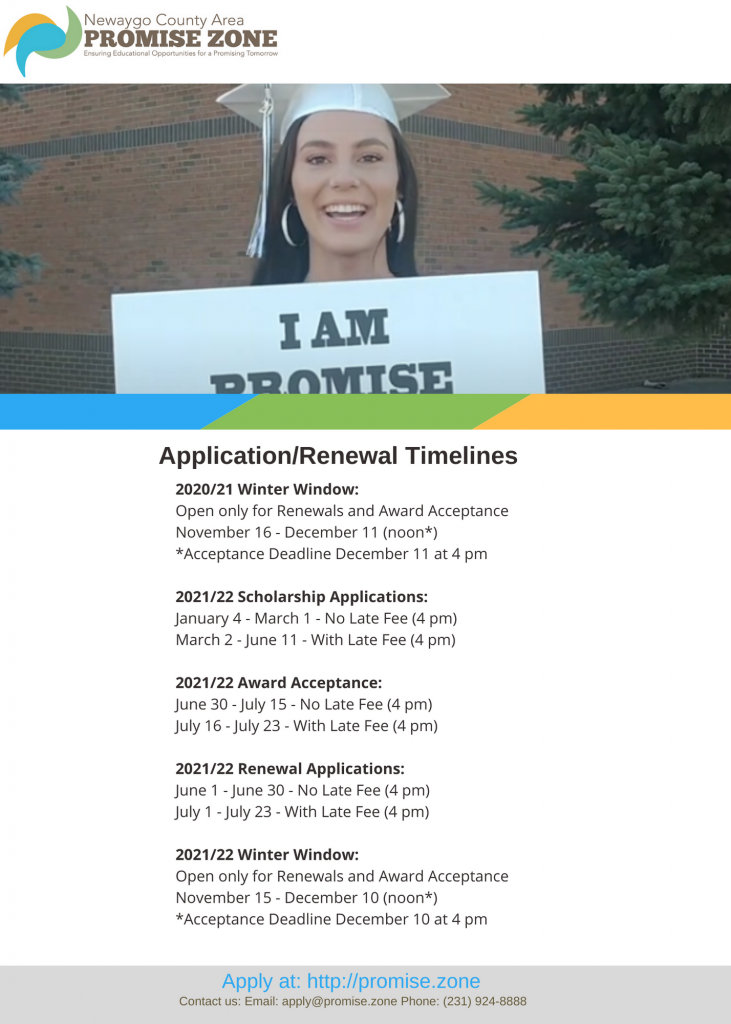 SCHOLARSHIP QUALIFICATIONS:
Please review the eligibility requirements on our FAQ page before applying. Please note that all first-year applicants must plan to attend Muskegon Community College or an approved apprenticeship program.
first year applicants:
Applications will be due to the Promise Zone by March 1 of each year.
Initial determination of eligibility and notification of Promise Zone Scholarship awards will be made by June 30.

RENEWAL APPLICANTS:
Annually, students will be expected to renew their eligibility by completing a new Recipient Renewal Application. The online Renewal Application Form will be available in June of each year. Current Promise Scholars will receive an email and/or text alerting them when the renewal application is available. The 2020-21 renewal application is available now for the winter window.
An end-of-year transcript is required to be included with all renewal applications.
APPEALS:
For students wishing to appeal the eligibility decision of the Promise Zone Board, an Appeal Request Form must be submitted to Promise Zone Board no later than:
August 1 (Fall Semester)
December 1 (Winter Semester)
April 1 (Summer Semester)
An approved appeal is required for first year college students to take summer classes.
An appeal is not required for returning students to take summer classes.
Questions: Call 231.924.8888 or email apply@promise.zone