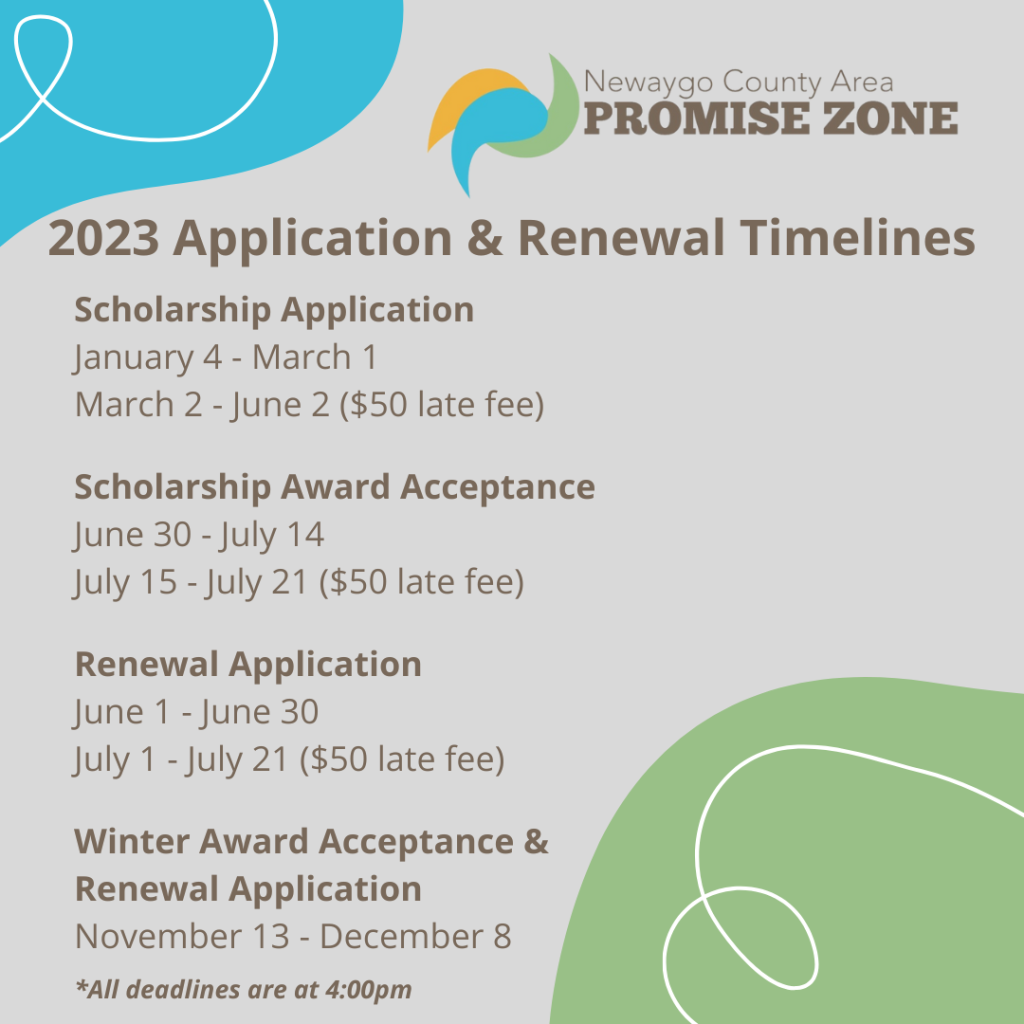 Please review the eligibility requirements on our FAQ page before applying. Please note that all first-year applicants must plan to attend Muskegon Community College or an approved apprenticeship program.
Newaygo County Homeschool students must be registered with NC RESA. Homeschool student scholarship award proration is based on registration with NC RESA for grades 7th-12th, with the first year of registration beginning the student's proration.
first year applicants:
Applications will be due to the Promise Zone by March 1 of each year.
Initial determination of eligibility and notification of Promise Zone Scholarship awards will be made by June 30 via the email provided on application.
2023 Promise Scholarship Application
**Please note, there is a $50 late fee for submitting an application after the March 1st deadline. Please follow the prompts to PayPal upon completing your application.
.
RENEWAL APPLICANTS:
Annually, students will be expected to renew their eligibility by completing a new Recipient Renewal Application. The online Renewal Application Form will be available in June of each year. Current Promise Scholars will receive an email and/or text alerting them when the renewal application is available.
An end-of-year transcript is required to be included with all renewal applications.

The 2023-2024 Promise Scholarship renewal will open on June 1, 2023.

.
APPEALS:
For students wishing to appeal the eligibility decision of the Promise Zone Board, an Appeal Request Form must be submitted to Promise Zone Board no later than:
August 1 (Fall Semester)
December 1 (Winter Semester)
April 1 (Summer Semester)
An approved appeal is required for first year college students to take summer classes.
An appeal is not required for returning students to take summer classes.
Questions: Call 231.924.8888 or email apply@promise.zone